The Glock-18 is one of the most popular guns in the game, since its the default pistol weapon for the Terrorist team. While less accurate than the CT-side USP-S, Glock-18 provides more firepower up-close, and can also be used in a burst-fire mode, in order to really deliver some pain to your enemies up-close.
Like many other popular weapons, Glock skins in CS:GO can be quite expensive. The more popular the weapon, the higher demand there is for skins, and considering that every Terrorist player starts their round with a Glock-18 already in their inventory, it's no wonder why Glock-18 skins can be so expensive. Players who sell CSGO skins often demand thousands of dollars for their glocks.
Luckily, for those who don't want to spend a fortune on Glock skins in CS:GO, there are some cheap alternatives, that can give your pistol rounds some style, without making you bankrupt. Here are the cheapest Glock skins in CS:GO you can get today!
Glock-18 | Oxide Blaze
First of the cheap Glock skins on our list is a popular choice of many players, who want a cool but simple look, that is also in-line with the traditional CS:GO aesthetic. Oxide Blaze is a great choice, if you want to have a worn-out look of a veteran, experienced in many different forms of combat. The traditional Glock-18 paint is replaced with a rust coat, as well as various white graffiti sprays of flames and a crosshair. Although the Factory New version of this skin is very cheap, the Battle-Scarred Oxid Blaze skins look even more worn out, giving it a real veteran look.
Flavor Text: "The subject claims this washed up on shore"
Lowest Steam price: $0.04
Drops From Case: Danger Zone Case
First Added: 6th December 2018
Glock-18 | Off-World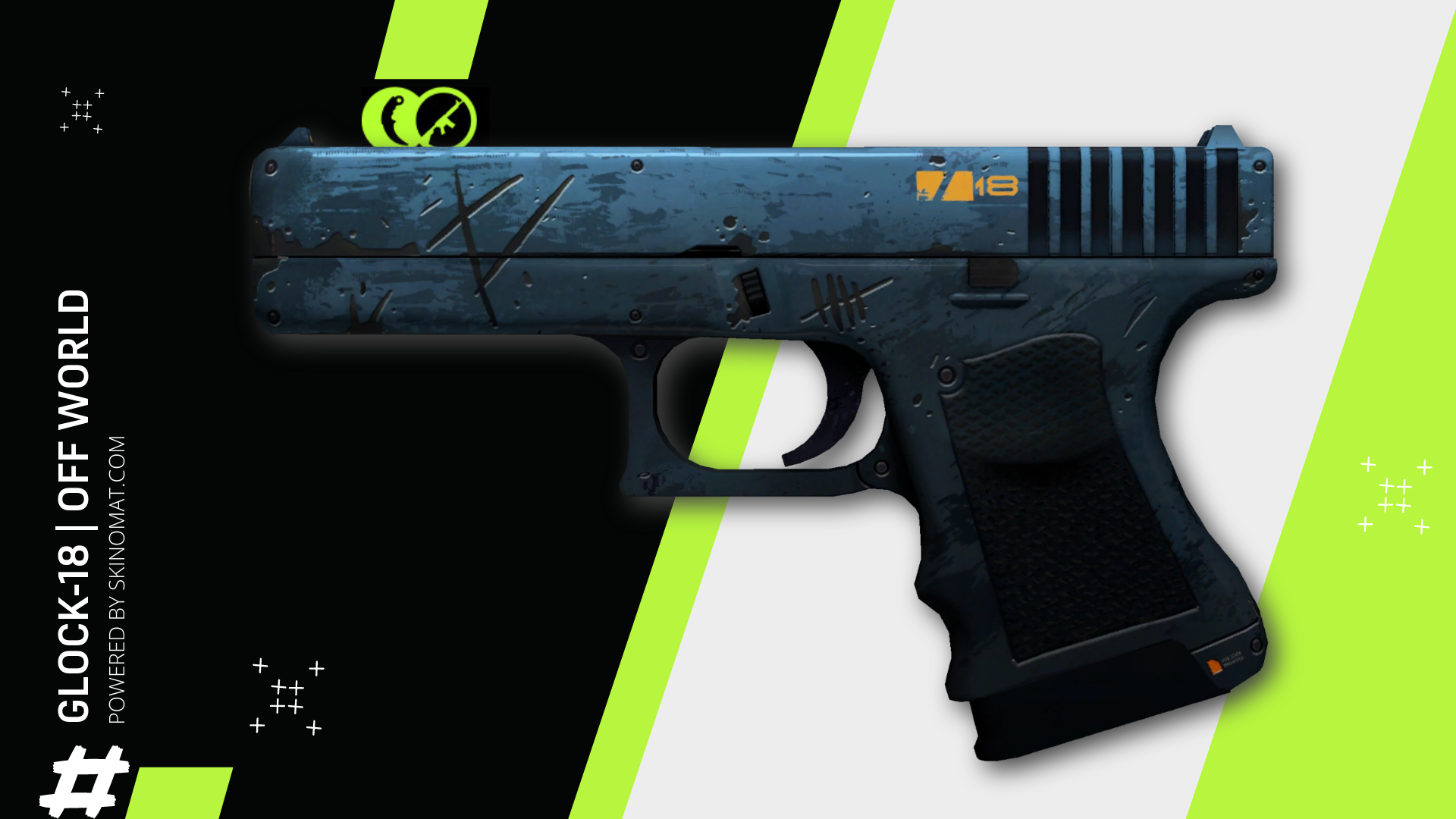 Another great skin for the players that want a stylish yet simple skin, Glock-18 Off-World can really change the look of your Glock for a cheap price. This weapon skin replaces the standard Glock-18 paint coat with an entirely light-blue body, with tally marks on the side, most likely for counting kills. It also features some markings, though this skin is so futuristic, that their meaning is yet unknown.
Flavor Text: The topcoat is still drying
Lowest Steam price: $0.11
Drops From Case: Spectrum 2 Case
First Added: 14th September 2017
Glock-18 | Clear Polymer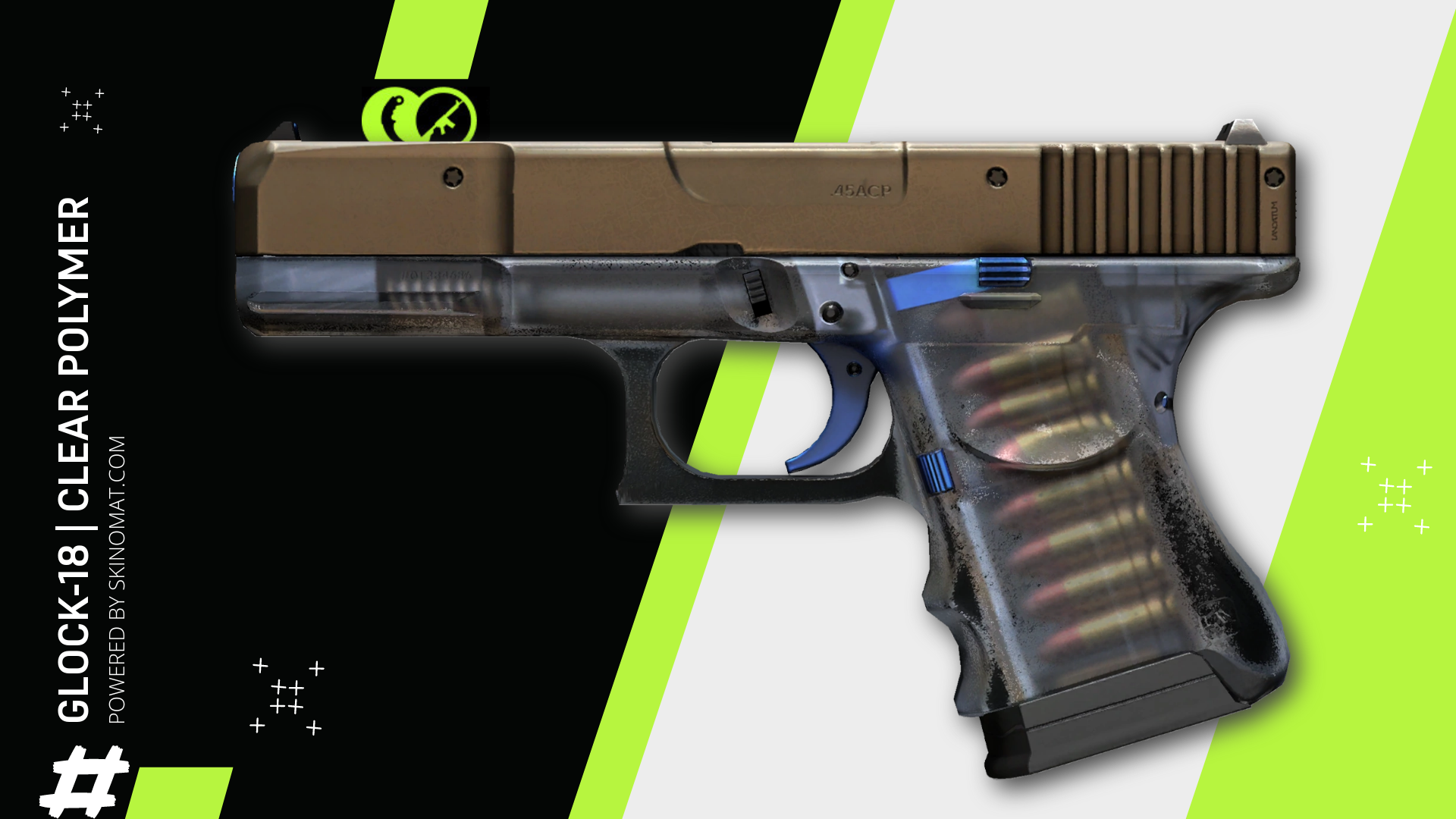 The Clear Polymer skin is one of the weirdest weapon skins in CS:GO, but if you're a fan of shocking weapon skins, you'll be happy to learn that it's also one of the cheapest Glock-18 skins currently available in the game. It's name is pretty self-explenatory. It replaces the standard Glock-18 body with one made of clear polymer. Yes, this means that when using this skin you'll be able to see the guts of your weapon. The weapon skin looks great in-game, and when inspecting it you can see all the details, that are normally obscured on other skins.
Flavor Text: What you see is what you get
Lowest Steam price: $0.12
Drops From Case: Snakebite Case
First Added: 3rd May 2021
Glock-18 | Bullet Queen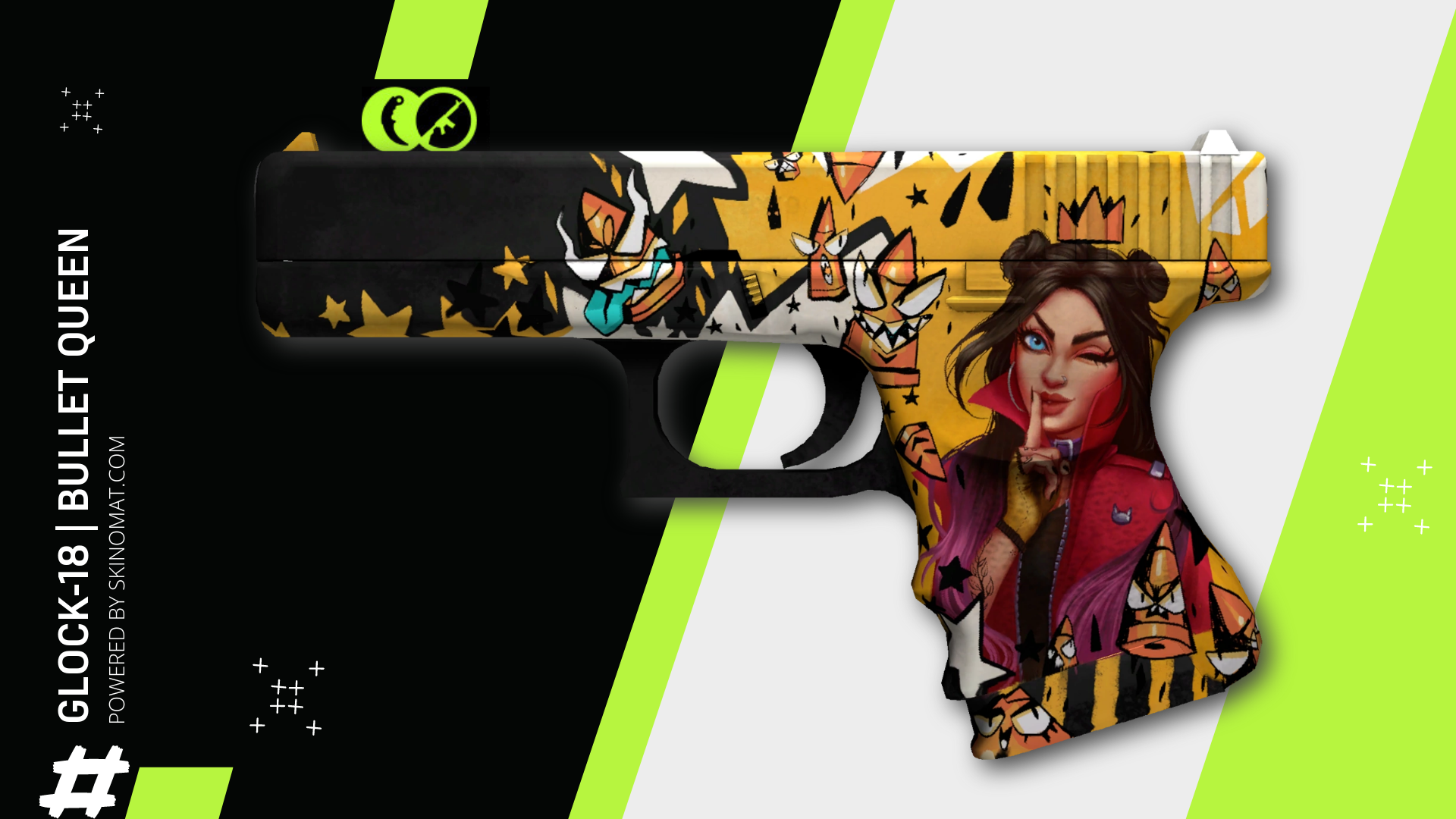 Although one of the more expensive entries on this list, Glock-18 Bullet Queen can be a great choice for those gamers, who want a great-looking skin with some impressive graphics, but can't afford to spend a lot of money. A highly-detailed glock skin featuring the titular Bullet Queen can be a perfect addition to any flashy and unique Terrorist loadout. If you want to make heads turn in a match, Glock-18 Bullet Queen is definitely a great choice.
Flavor Text: "I'll stop shooting when you start shushing"
Lowest Steam price: $5.34
Drops From Case: Prisma 2 Case
First Added: 31st March 2021
Glock-18 | Water Elemental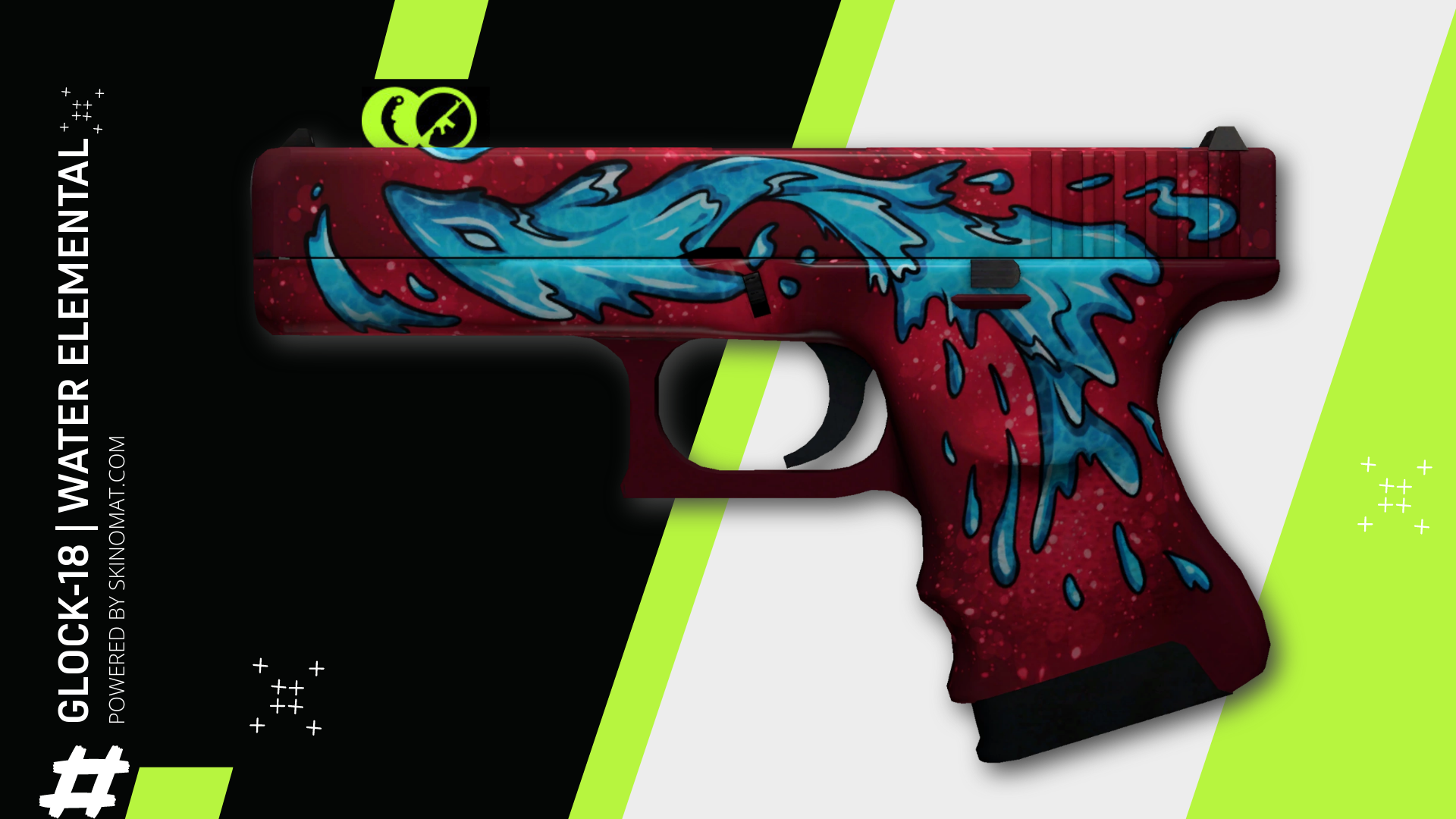 One of the most popular weapon skins for Glock-18, Water Elemental is an absolute classic when it comes to handgun skins in CS:GO. Introduced in the Breakout collection, The Water Elemental skin features the titular elemental, in the form of a fish made out of water, on a cherry-red background. You might often see this skin in your online matches, considering that it's one of the absolute favorite skins of CS:GO players. Best part? At the moment you can get a Glock-18 Water Elemental of your own for less than $4!
Flavor Text: None
Lowest Steam price: $3.53
Drops From Case: Operation Breakout Weapon Case
First Added: 1st July 2014
Glock-18 | Ironwork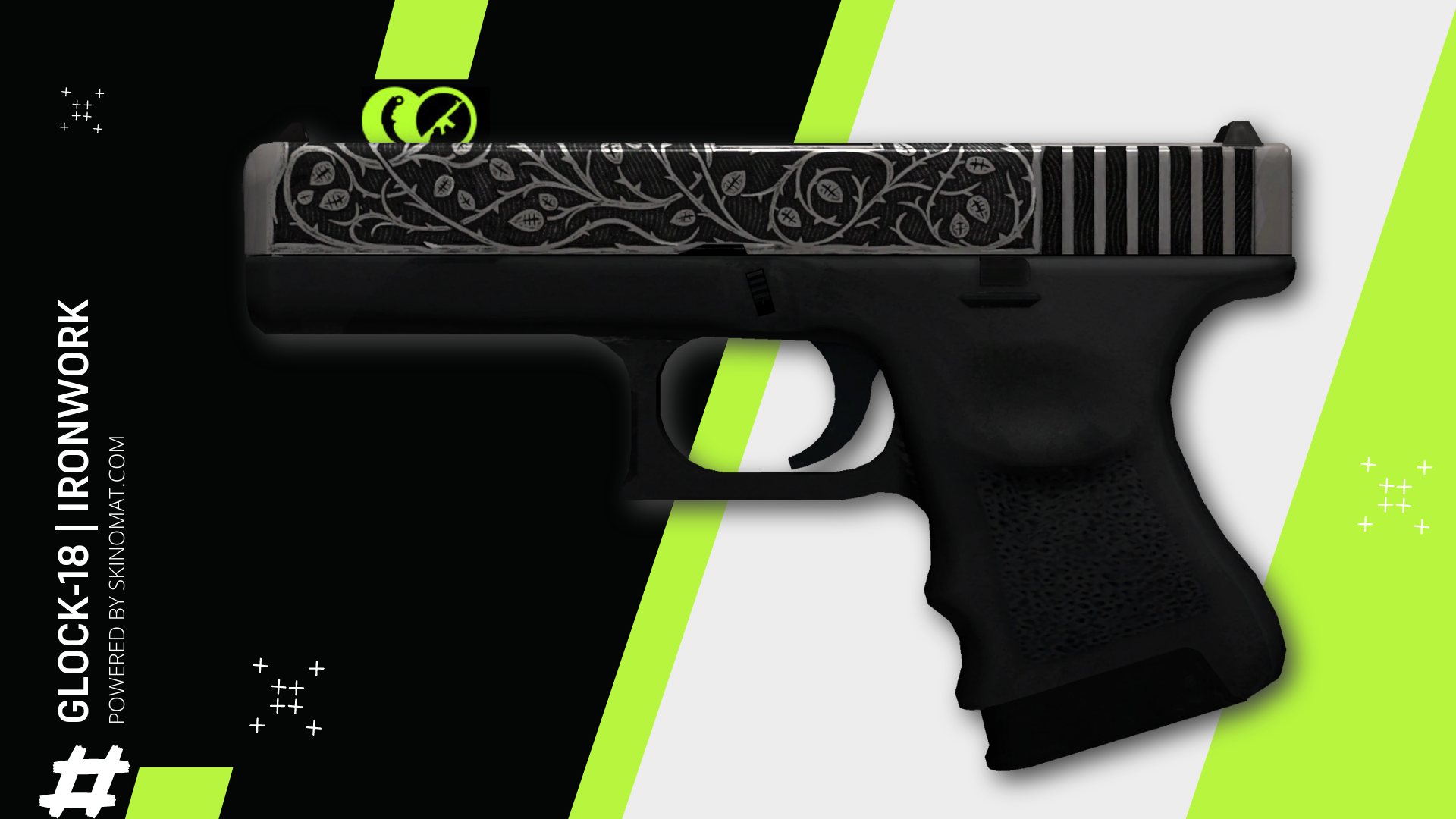 One of the best skins introduced in the Glove Collection, Glock-18 Ironwork is a skin that's elegant, stylish, and cheap at the same time. Combining black and silver colors, the side of this weapon's skin has been etched with a pattern of ivy and thorns. If you're thinking about getting a silver CSGO loadout, Glock-18 Ironwork will be a great choice for your collection.
Flavor Text: Left unchecked, any garden becomes a tangled mass of weeds
Lowest Steam price: $0.13
Drops From Case: Glove Case
First Added: 29th November 2016
Glock-18 | Wraiths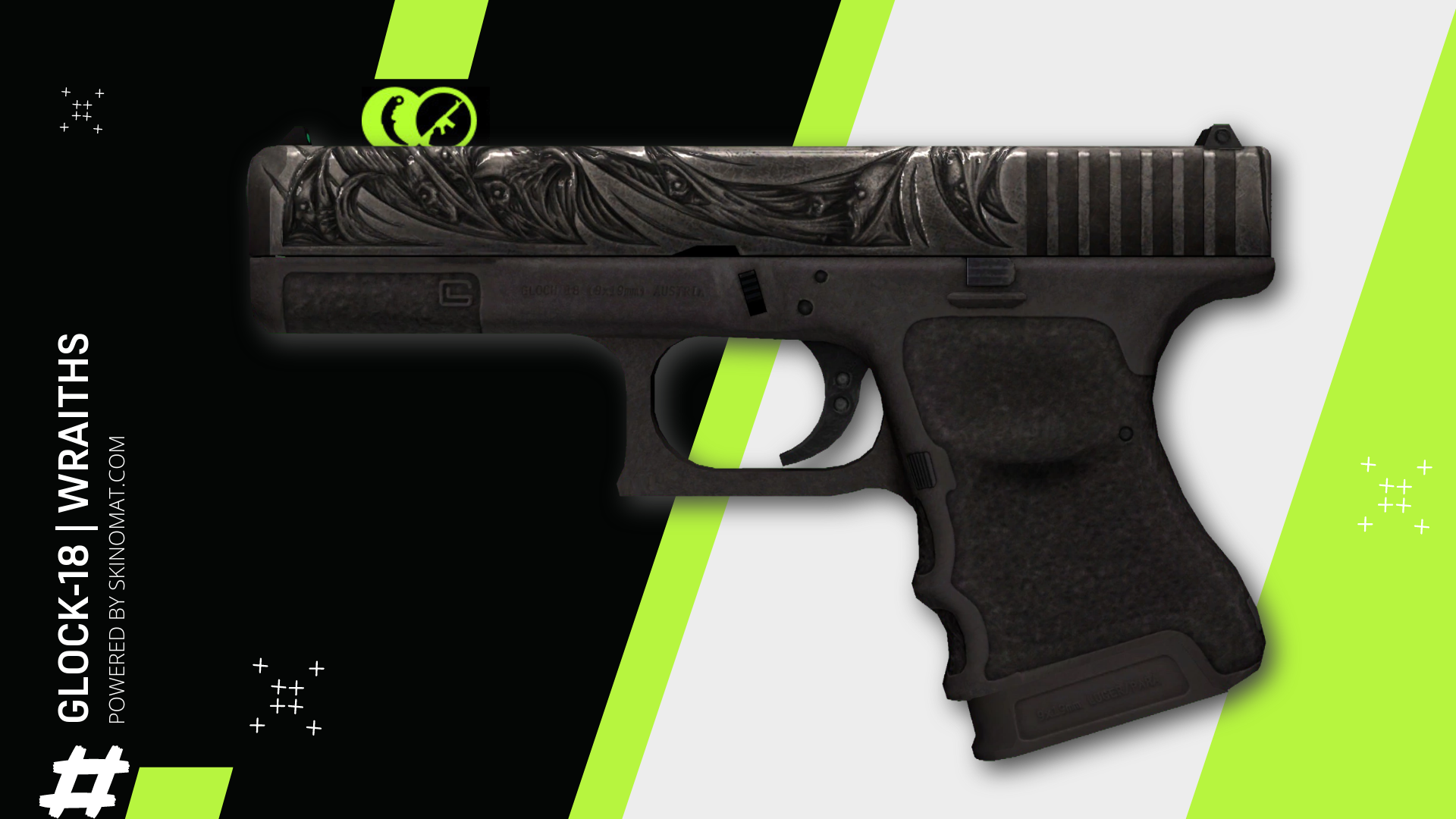 If you're looking for a dark-themed loadout, Glock-18 Wraiths is a perfect choice. The Shadow Collection introduced a number of skins themed around skulls, ghosts and death. Glock-18 Wraiths is no different. The weapon skin is onyx black, with tortured ghosts engraved on the barrel. If you're looking for a halloween-themed weapon, Glock-18 Wraiths will be your best choice!
Flavor Text: First it pierces the shroud, then it pierces the shadow
Lowest Steam price: $0.13
Drops From Case: Shadow Case
First Added: 17th September 2015
Glock-18 | Sacrifice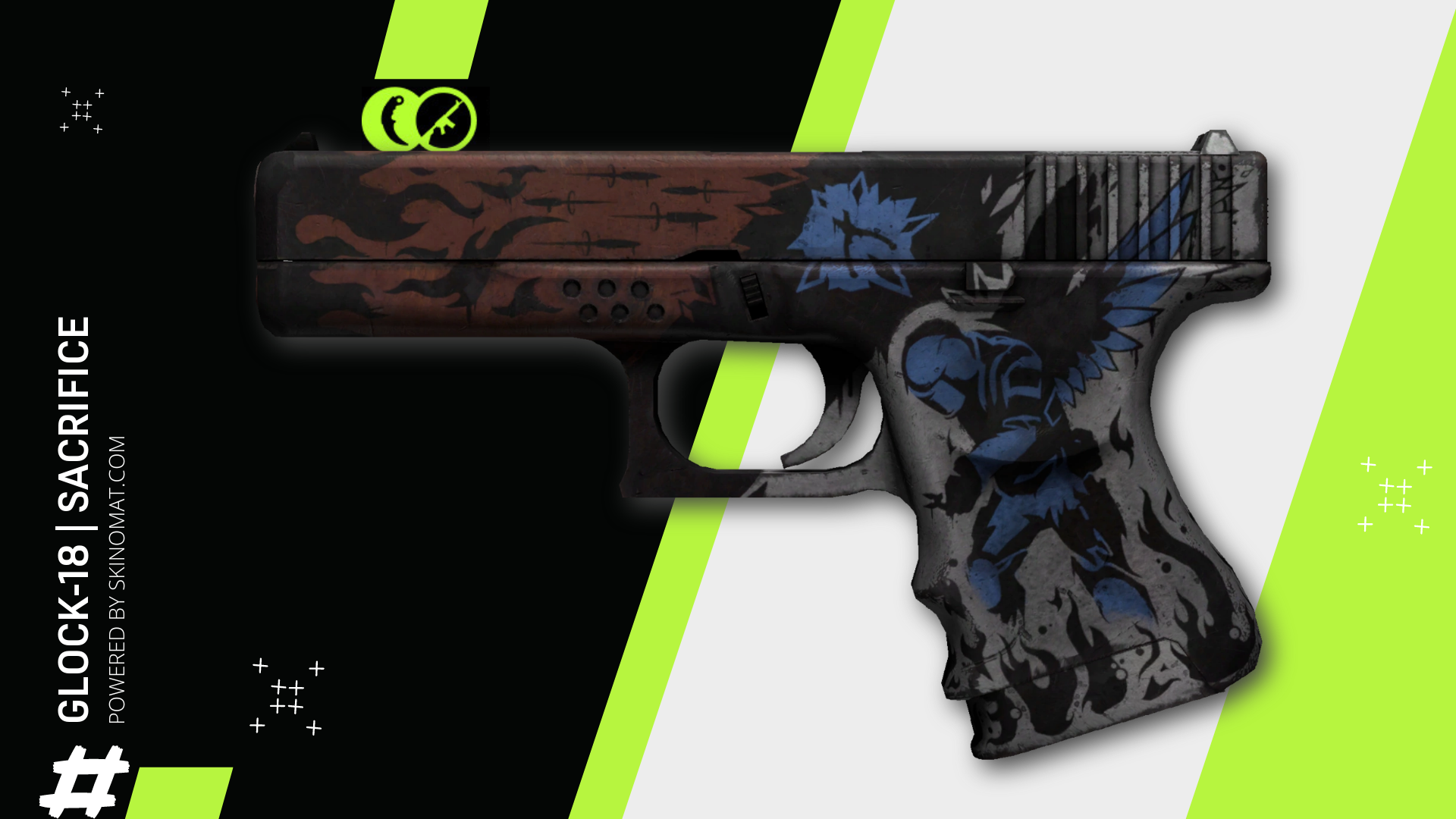 This Glock skin introduced as the part of the CS20 Collection is a must have for any of the CS:GO eSports fans. This weapon skin has been introduced to commemorate the performance of Olof Kajbjer, better known as Olofmeister, during the ESL One Cologne 2014 tournament. Olofmeister has managed to save the match by hair's breath, with his entire team dead and himself on fire. He managed to finish defusing the bomb, securing the win for his team, and eternal fame for himself in a form of his own Glock-18 skin. If you think this sounds epic, you'll be happy to know that its one of the cheapest Glock skins!
Flavor Text: "The defuse is coming in—he's still going!"
Lowest Steam price: $0.13
Drops From Case: CS20 Case
First Added: 18th October 2019
In Conclusion
Here are the best Glock skins you can currently get in the game. Remember, you don't have to spend a fortune to look great in CSGO. If you enjoyed this guide, be sure to follow our blog for more tips, tricks, and guides on how to look great in-game without spending a ton of money!